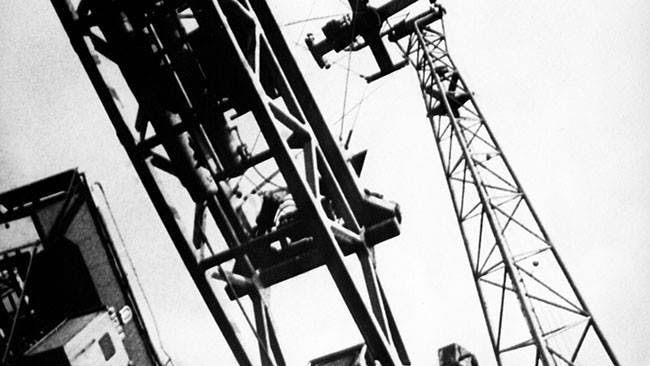 Early Monthly Segments #102 = Karel Doing in person!
Wednesday, July 11
8:00 PM— 10:00 PM
Presented by
Early Monthly Segments
Early Monthly Segments is pleased to return with program #102 featuring Karel Doing from the Netherlands in person at the magnificent new Toronto Media Arts Centre in Queen West. Currently living in the UK, Karel Doing is in Ontario teaching a course at LIFT and participating in the Film Farm Independent Imaging Retreat . Doing has been working as an experimental + documentary filmmaker and performer since 1990, with a particular interest in materiality, semiotics and environmentalism. He will present two performance pieces and four 16mm films on July 11 at EMS.
The evening's first performance Pattern/Chaos (2016) is a negotiation between the unpredictability of organic processes and the regularity of frames, optics and motors. Meni features an obsessive unravelling of dance movements that were edited into frenetic patterns and undulating rhythms. Maas Observation, a collaboration with Greg Pope, demonstrates their fascination in the bizarre landscapes of the port of Rotterdam, a stretch of 'neo-nature' with little place for humans, where huge machines seem to move around according to a logic of their own. Whirlwind, a collaboration with Greg Pope, Bea Haut & Ben Hayman is an assemblage of footage shot during performances by Loophole Cinema. The group used lights, lenses, projections and bodily interventions to create immersive cinematic experiences. Energy Energy, a collaboration with Pierre Bastien is a found footage film made from industrial, educational and promotional films from the early 20th century, presenting progressive technological development. This utopia is disturbed by the destructive power of the human mind and the greedy nature of the status quo. Doing's closing performance Symbiogenesis (2017) consists of a series of repetitive and rhythmical musings on nature and culture, often superimposing the two. 16mm projection is combined with live sound, a layering of optical (found) tracks, a collection of rare records played on a prepared dance-set and sounds produced live via voice and percussive instruments. The title derives from the work of Lynn Margulis and her notion that the convergence of species – rather than their divergence – is driving evolution.