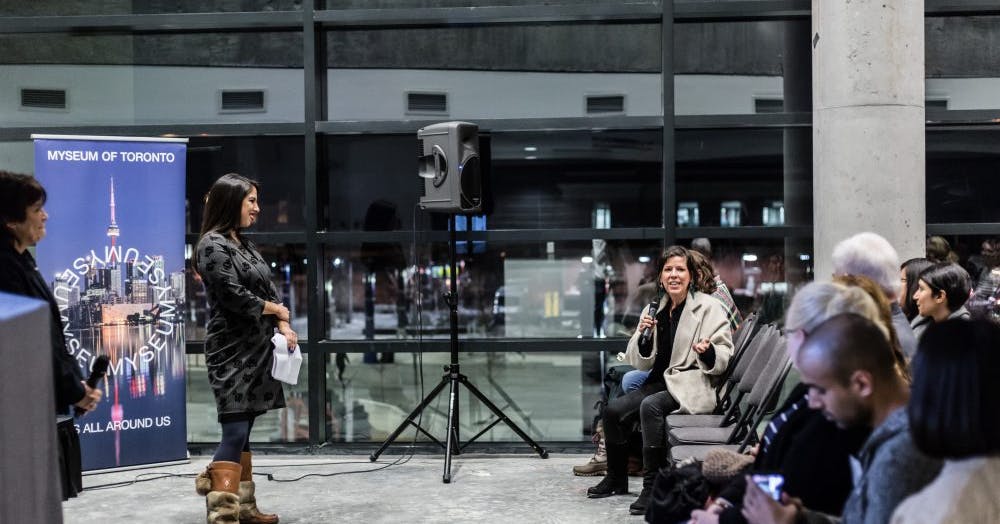 Announcing our 2019-2024 sponsors!
April 23, 2019
Supporting the day-to-day users of our space – artists, neighbors and members – means dreaming with them about what this facility can be beyond a great place to gather, work and learn.
Our first year was a blockbuster. In 2018, we hit the ground running (after fighting for and winning interim occupancy while our lawsuit was being settled) and established the accessible, inclusive hub for arts, culture and community within the creative cluster of West Queen West we've been planning since 2011.
In 2018, we collaborated with more than 115 partners, presented over 200 programs and 20 exhibitions, and welcomed over 15,000 visitors. The space is alive with activity every day and night of the week, with exhibitions, receptions, classes and workshops; filmmakers, game designers, curators, composers and other media artists experimenting and creating in every space we have to offer.
Space to experiment
Supporting the day-to-day users of our space – artists, neighbors and members – means dreaming with them about what this facility can be beyond a great place to gather, work and learn.
Something that has resonated with everyone is the creative possibilities that maturing augmented, virtual and mixed reality technologies (known collectively as XR) have opened up.
Integrating traditional and new modes of storytelling, XR bridges film, video games, digital culture, performance and art. It gives audiences access to different points of view, and engages them in ways that would otherwise not be possible.
But the tools to create can be inaccessible – the higher-end headsets are hundreds or thousands of dollars, workstations with capable video cards are two to three times the cost of most production laptops, real-scale multi-user immersive rooms are not available to individual creators, and shooting studios for motion and volumetric capture are expensive and strictly limited to commercial users.
What if anyone could freely experiment with technology that has the potential to expand how we create, experience and share stories? What happens when artists get their hands on platforms and tools that weren't made for them, and the developers listen to their ideas and connect them with new peers and audiences? We want to find out!
Partners who fit
TMAC has selected partners that can solve this need within the media arts sector who have a strong cultural fit, values alignment and ability to make contributions that provide intrinsic value to the community. In addition to financial support, their sponsorship sets the stage for research and development activities and wild creative experimentation through free and affordable access to leading-edge technology.
Not only that, these partnerships will allow TMAC to make improvements to all of our presentation and work spaces (finishing work the developer did not) and connect us with a broad network of creators and funders across Canada and internationally.
Our partners bring benefits that work in concert with one another, reflecting TMAC's collaborative, inclusive values and amplifying the possibilities and potential each enables.
Partners in creative experimentation
These partnerships will result in two three new initiatives that will provide free access to hardware, software, services and facilities to artists experimenting with immersive experiences, spatial computing and distributed content production.
Ubisoft and TMAC are working on something amazing we're keeping under wraps for now!
Virtualware will bring its real scale, multi-user immersive room technology – including equipment, hardware and software suite for generating and updating content in real time – to TMAC to foster the creation of new immersive cinema experiences, allow for the exploration of interactive digital performance, and enable truly immersive storytelling and explorations of human interaction within virtual spaces.
Beanfield has supported TMAC with best-in-class fiber connectivity and high-capacity wireless service (freely available to anyone in TMAC!) since day one. But that's just the beginning.
Beanfield's access to SirtNET will provide TMAC with opportunities to access cloud-based processing services for rendering images and video, on-demand software suites, and other normally cost-prohibitive server functionality.
Additionally, Beanfield's service and expertise will be used in conjunction with our XR facilities to allow the streaming of mixed reality performances, as well as offering new ways for artists outside of TMAC to participate in workshops.
We can't wait to get you involved in these programs. Interested in learning more? Please get in touch!