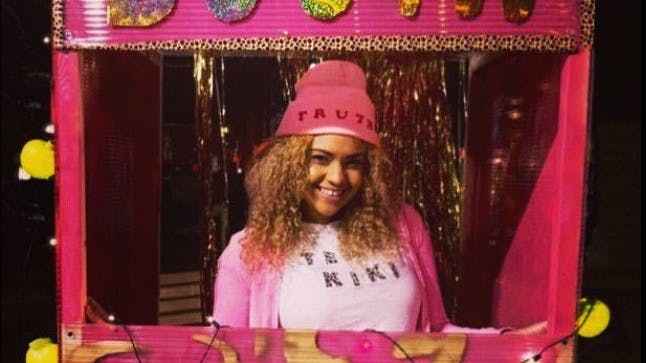 Re-Joyce Opening Reception
Thursday, April 4
6:00 PM— 9:00 PM
Featuring readings by Lee Maracle and Lisa Robertson.

This event is part of:
Featuring:
The Truth Booth Presents: Invest and Protect Conceived by Kiera Boult, The Truth Booth in its latest iteration addresses land ownership. By using the trope of the therapy booth, Truth Booth: Invest and Protect will feature the artist as facilitator for members of the general public who wish to hold private, shame-free conversations about land ownership in relation to race politics, class and intersectional feminism.
Readings by Lee Maracle and Lisa Robertson
Lee Maracle will be reading from Hope Matters, a new collection of poems written with her daughters Columpa Bobb and Tania Carter, focusing on the journey of Indigenous people from colonial beginnings to reconciliation. Maracle states that the book "is also about the journey of myself and my two daughters."
During their youth, Bobb and Carter wrote poetry with their mother, and they all decided that one day they would write a book together. This book is the result of that dream. Written collaboratively by all three women, the poems in Hope Matters blend their voices together into a shared song of hope and reconciliation. (From Book*hug Press)
Lisa Robertson's Wide Rime is a lyric sequence opening a space of rhyme and echo between Joyce Wieland's film Birds at Sunrise, and birds in the dawn poems of the troubadours, in 12th C Aquitaine. The film traces a vulnerable space for survival in the face of suffering; so too do the poems. The lyric lens insists that the daily celebration of minor, collective joy is an urgent resistance.